For instance, in consulting with her Merrill Private Wealth Advisor, Richard Salvino, as well as Lilia Shemesh and Matthew Saland of her advisory team, Erin learned that decisions she made about managing the benefit from her husband's life insurance policy could affect her children's eligibility for future financial educational aid—a major need for her with four young children.
Only 14% of widows say they were making financial decisions by themselves before their spouse died. But once they are widowed, the overwhelming majority—86%—report having to do so.4 This is even more daunting when you have dependents at home. Research suggests that any financial decision that isn't time-sensitive should be put off until you're feeling less emotionally vulnerable.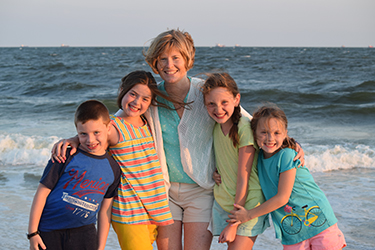 "The most difficult thing is the constant worry," notes Erin, pictured with her children at left. "That started early on, and it continues nearly seven years later." Over time, Erin's advisor helped her work through issues involving her return to full-time work and saving for retirement. "We looked at all sorts of expenses and what decisions would need to be made in order to achieve the goals I had for the kids: what's realistic, what isn't, what would need to take place to achieve my family's goals."
Erin recalls that the day-to-day financial pressures were so great that she told her advisor she might cut back on what she was setting aside for retirement. "And he advised me not to—that retirement needed to be one of my first priorities so I could take care of myself in the future," she says.
Salvino made Erin's long-term financial health a focus. "Given that she was young, continuing to contribute to her retirement plan was important," he says. "She had many years ahead of her to save and let the compounding effect of wealth work in her favor. You can always borrow for your children's education, but you can't borrow for your retirement."
Finding the courage—and financial confidence—to go on alone