That unexpected responsibility, plus her marriage shortly before, have had a seismic impact on her financial footing. "I went from being a single professional with no one to consider but myself and a lot of disposable cash, to supporting mom and recently becoming the primary breadwinner in my marriage when my husband and I decided it was time for him to start his own general contractor company," Whaley says. (Her husband took a pay cut to start his own business.)
Like Young and Warren, Whaley doesn't go it alone. For more than a dozen years, Patricia Barksdale, her Merrill Lynch Financial Advisor, has played a role in helping her navigate the financial aspect of caregiving, and more. Barksdale has subtly boosted Whaley's investing swagger by encouraging her to ask questions and push to learn more. "Today, I'm confident when it comes to investing, but I'm not a risk taker. I'm not out there swinging for the fences. How can I? I have a dependent."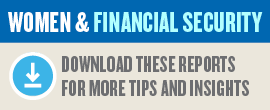 Women and Life-Defining Financial Decisions
Managing Your Career
Financial Security for the Caregiver
Debt and Homeownership
The Family and Financial Security
Financial Decisions Near Retirement
Not surprisingly, she's also beginning to take stock of her own future health care expenditures. With first-hand experience paying for her mother's care, she's shopping for long-term care insurance. "I had planned to self-fund, but I know now that I'd like to have a safety blanket," she says. "I don't have any children. My mom had me to look after her, but I don't have a me."
Taking charge
Whaley, Warren and Young have never let the financial challenges they faced stop them from pursuing their goals. For all three, understanding the challenges they faced was the first step in finding ways to overcome them.
What's the key takeaway from all their stories—the one thing that empowered them to reach for their success? "It's soul-searching," says Sabbia. "Ask yourself: What's your money for? What are your priorities? Figure out how much you might need in order to retire early or to pay for your kids' college tuition, and start working toward those goals. And don't feel you have to go it alone," she adds. "Talk about money with your friends and family. Maybe even consult a financial advisor. You don't have to be perfect or know everything before you begin investing," she says. "Just start."
There's too much at stake not to.