Neither Merrill Lynch nor any of its affiliates or financial advisors provide legal, tax or accounting advice. You should consult your legal and/or tax advisors before making any financial decisions.
AS YOU REVIEW YOUR PORTFOLIO at year end, and throughout the year, you may consider selling some investments that have increased significantly in value since you bought them. That could be even more true this year. After a bull market that's lasted nearly a decade, selling high performers can help investors capture long-term gains that might erode if the bull market ends.
You may owe capital gains tax on their increased value, says Joe Curtin, head of Global Portfolio Solutions for the Chief Investment Office of Merrill Lynch and U.S. Trust. At the same time, there may be ways for you and your tax professional to rebalance your investments, keeping them in line with your goals and preferred asset allocation. Remember that capital gains taxes are a result of successful investing, he says. While few people enjoy paying taxes, a capital gains tax of, say, 20% (rates vary depending on your income) "may be a small price to pay for success," Curtin notes. "You can celebrate keeping the 80%."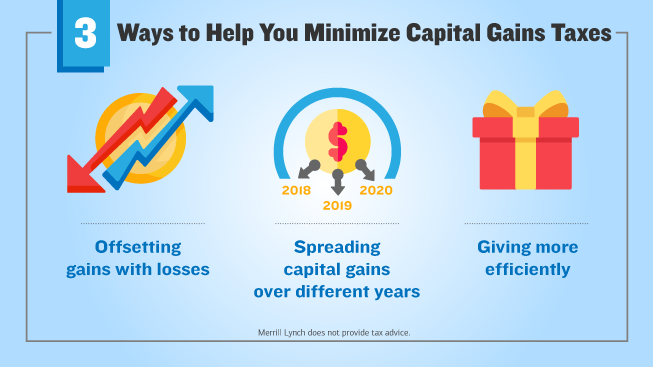 Offsetting gains with losses
Still, there are several strategies you might consider discussing with your tax professional to help reduce what you may owe in capital gains tax, Curtin suggests. "For instance, if a good part of your portfolio is up in value, while a smaller part is down," he says, "selling some of those 'down' investments at a loss—known as tax-loss harvesting—and claiming the loss on your tax return, could help offset what you owe from your sale of better-performing stocks." You can generally deduct up to $3,000 (or $1,500 if married and filing separately) of capital losses in excess of capital gains per year from your ordinary income. And if your net capital losses exceed that yearly limit, you can carry over the unused losses to the following year.1
But maybe you want to keep some promising but currently struggling investments in your portfolio. In that case, you could consider selling them, harvest the loss, and then buy them again. Just work with your tax professional so that you're waiting more than 30 days before repurchasing—if you buy substantially similar investments 30 days before or after the initial sale, you'll trigger "wash sale" rules and can't claim the losses on your tax return.